A Full Deluxe eGo kit with TWO COMPLETE UNITS (2 BATTERIES, 2 ATOMISERS, 2 CONES) a USB Fast Charger and Mains Charger Adapter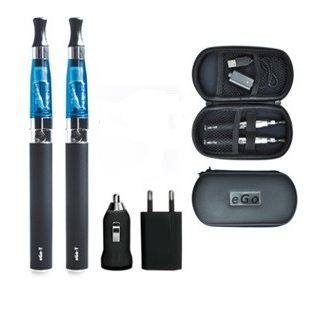 The "eGo" ecig is the latest generation of vaping technology. It addresses the problem of short battery life between charges by means of a manual 750mAh 3.7v battery. The sleek design means that while this is slightly thicker in diameter than a regular 510 ecig, it still has amazing looks and will last for 4-5 times longer between charges – that means up to a full day, depending on your own vaping usage.
We are so impressed by the performance of these units, we no longer stock standard 510 ecigs, believing these eGo devices provide the best possible vaping experience to complement outstanding e-liquid.
With a standard 510 fitting you have the choice of using either 510 atomisers with cartridges or a drip tip, or 510 cartomisers. You can use standard resistance atomisers and cartomisers, or due to the high performance of the battery, you can also use low resistance atomisers and cartomisers for increased vapour and throat hit.
The eGo comes with a detachable cone that serves two purposes – it complements the sleek appearance of the device, and also improves the "draw" of air through the atomiser. The switch has a blue LED light to show the unit is operating or that it is connecting to the charger correctly.
Each kit contains two complete ecigs and everything you need to enjoy an outstanding vaping experience, including a USB and mains charger for the UK.
Kit contents:
    2 x 750mAh manual eGo batteries – matt black
    2 x 510 standard resistance atomisers
    2 x eGo cones
    1 x USB charger
    1 x Mains USB adapter (UK and/or EU plug)
    5 x blank cartridges
    1 x Instruction Manual
The kit comes in a stylish presentation box.
Our kits are covered by a 28 day warranty.
Please remember atomisers are a consumable part of the eGo, and will require to be replaced. We recommend you keep a stock on hand – the average life is normally around 14 days before a decrease in performance is noticeable.
*Please note the USB charger supplied with this kit is not suitable for use on standard 510 batteries, and should only be used to charge the batteries included in this kit. We advise against the use any other charger other than that supplied to charge the batteries included in the kit.